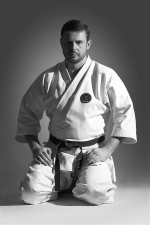 In June of 2005 in Moldova passed trainer workshop under the guidance of Grand Master Morio Higaonna Karate Sensei. Sensei Higaonna praised the level of training of Moldovan karate. In this regard, the chief instructor of Moldova Victor Panasiuc received a personal invitation to visit the home of the famous masters of Karate - Okinawa to raise the level of skill and expertise.

During the visit, Victor Panasiuc participated in an international workshop masters, which passed the qualifying exam for master's degree - 6 DAN. This workshop is an indicator of the degree of high level in the field of martial arts. On the territory of the CIS, only two holder of the title, but in Europe no more than 10 people.

During his stay at the home of karate, Victor Panasiuc was honored to participate in a special demonstration of karate techniques for book-encyclopedia of martial arts of Okinawa, on a par with the Japanese masters. This book will be released for people who practice traditional martial arts in Japan. The fact that our compatriot demonstrates for the print edition of karate techniques, said the recognition of the Moldovan karate at international level.

A special thanks to the Okinawan Goju-ryu Karate-do Association Moldova wants to convey to the President of the "Union Veterans of St.George the Victorious" Alergus Victor, who provided financial support for this visit to Japan.