Chisinau, 12 October /MOLDPRES/- President Nicolae Timofti today met the head of the International Federation Okinawa Goju-ryu Karate-do, Japanese Master Morio Higaonna at the presidential residence, according to the presidential press service.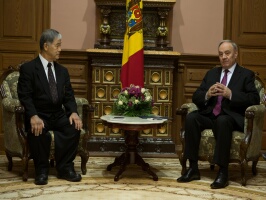 Timofti said he highly appreciates the master's activity in martial arts, noting that this sport is practiced in Moldova too.
Timofti handed the Order of Honour to Morio Higaonna for the special merits in promoting the martial arts in Moldova, the assistance provided in enhancing the fight capacity of the units within the Moldovan power institutions and for the contribution to the development of friendship relations and Moldovan-Japanese cooperation.
Morio Higaonna said he is honoured to receive this high distintion from Moldova's President. Also, he expressed satisfaction with the beautiful nature in the country, saying that practicing the sport in the air contributes to setting an equilibrium between nature and people.